Learn More About Crowns and Bridges

Created in Treatment, Cosmetic Dentistry
Crowns and bridges? Do you know the difference between these two dental prosthetics? Dr. Nelson V. Berardinelli offers both in his Murrysville, PA, office. They are great ways to protect and preserve smiles damaged by decay, gum disease and tooth loss. Read here about these common restorative treatments and their outstanding results.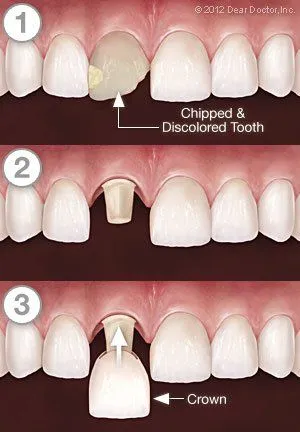 Should you just extract a damaged tooth?
The answer is no, because nothing looks, feels or functions quite like a natural tooth. Plus, when you lose a tooth, your jaw bone and gum tissue naturally begin to recede. The more teeth you lose, the more aged your facial appearance becomes, and the harder it is to bite and chew properly. In other words, keep your own teeth as long as possible.
Crowns can help
After root canal therapy, a removal of extensive decay, or oral trauma (tooth fracture), a beautiful dental crown from Dr. Nelson V. Berardinelli may be just what you need to protect and beautify your tooth. Usually, crowns are made of precious metals, such as gold, porcelain or porcelain fused to metal. They cover teeth from the gum line to the very top.
Dr. Berardinelli will examine the tooth in question and X-ray it to see if a crown would be suitable. If so, he'll take an oral impression and remove the damaged tooth enamel and/or old filling material. This process usually requires nothing more than a local anesthetic to numb the area around the tooth. He'll place a temporary restoration and send instructions to his preferred dental lab. At the lab, a trained technician fabricates a customized crown with just the right shape and color for your smile.
On your return visit, Dr. Berardinelli will remove the temporary crown and bond the permanent one in place. He takes the time to ensure it bites together with the opposing arch perfectly and does not crowd surrounding teeth.
You'll find your dental crown feels natural and looks great. Just care for it as you would your other teeth, brushing and flossing daily and coming to Dr. Nelson V. Berardinelli for your check-up and professional cleaning. It should last you ten years or more!
Bridges fill-in spaces
If you have lost one or more adjoining teeth, don't despair. Dr. Berardinelli can fill that gap with fixed bridgework.
Bridges are comprised of artificial teeth, or pontics, attached to neighboring natural teeth (abutments) via dental crowns. As with the crown procedure, Dr. Berardinelli does a comprehensive oral exam and takes impressions. His treatment plan tells the lab precisely how to make the bridgework.
Because the appliance involves crowns, the dentist prepares the abutment teeth by removing some enamel. This process ensures the bridgework will be properly supported and stay in place for its expected lifespan of ten years (according to the Cleveland Clinic).
Looking to restore your smile? Dr. Nelson V. Berardinelli offers advanced, quality crowns and bridgework.
Call our office in Murrysville, PA at (724) 733-2122 for more information!